Dark Archives #4 – stories of the paranormal, supernatural, horror, and more! #WeirdDarkness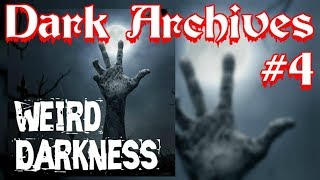 Tell your story so I can use it in a future episode at http://www.WeirdDarkness.com!
Please post a review of the show on iTunes at http://ow.ly/irgH30fHRxt! Posting an iTunes review helps people find the show more easily, helps grow the show, and encourages people to send their stories for future episodes!
This episode is brought to you by the audiobook, "Your Haunted Lives, True Tales of the Paranormal" by G. Michael Vasey, narrated by Darren Marlar. Hear a free sample or purchase the title at http://a.co/9MiLupU



++++++++++
MY PODCASTS...
* DAILY DOSE OF WEIRD NEWS: http://www.DailyDoseOfWeirdNews.com
* WEIRD DARKNESS: http://www.WeirdDarkness.com
MY TOOLS...
* MY MICROPHONE (Neumann TLM103): http://amzn.to/2if01CL
* MICROPHONE PRE-AMP (Icicle): http://amzn.to/2vLqLzg
* RECORDING SOFTWARE (Adobe Audition): http://amzn.to/2vLqI6E
* MACHINE (MacBook Pro): http://amzn.to/2vQzD5g
OTHER STUFF...
* FREE MOBILE APP: http://ww.MarlarHouse.com/mobile
* POSTAL ADDRESS: Marlar House Productions, PO Box 2023, Loves Park IL 61130
* MARLAR SHEET (newsletter): http://www.MarlarHouse.com/MarlarSheet
* MARLAR HOUSE AUDIOBOOKS: http://www.MarlarHouse.com/AudioBooks
This podcast is part of the BombPod Media Network: http://www.BombPodMedia.com